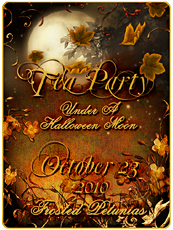 Well perhaps I'm a tad late in posting this but I did honestly only see the announcement yesterday at frosted petunias .
When I did I thought to myself " perfect " as it was my gathering of gal pals for our monthly fullmoon fun , crafy & prayer time gathering ☺
I can say just as last month I was beat down , physically , emotionally & spiritually drained .
I had all the items gathered up and ready for a nice party but my spirit was low . I thought a negative thought " no one will show , and I'll be in bed by 8:30pm "
Within 3min I'm not kidding 3 of my gal pals walked in the door with joyful hugs, gifts & yummies ☺
Patrice brought cream puffs with caramel sauce , Jacqui brought chili chocolate for the blood moon & Mary brought some awesome organic jasmine white tea
So Teaparty it was !
Below are some of the pics from my preparation & gathering
Miss Lizzie is also one of the girls ☺
she takes a real good pic
this is my pot but really look to the side it is those awesome shoes need the attention ☺
isn't that pretty
my jack jack kept following me around
he is my sweetie pie
a top the piano
yet another candle
sweet autumn altar